Oral Care for Babies & Children
From baby bottle tooth decay and cavity prevention, to flossing techniques and regular dental appointments – you can trust Cloverdale Crossing Dental Group to guide you and your children each step of the way.
---
'Caries control' refers to the treatment and prevention of dental decay, otherwise known as cavities. For babies and children, controlling dental decay is one of the most important element to maintaining their oral health in the long term. Caries control is usually our main focus for our younger patients.
Baby Bottle Tooth Decay
Just as soon as your child's teeth begin erupting, they are susceptible to tooth decay. Babies' teeth need to be cleaned twice each day, just like adults' teeth, to prevent dental decay.
These regular cleanings help remove bacteria, and prevent sugar from being trapped in the tooth and gum area. If your baby doesn't have teeth yet, you can gently wipe down the gums with a clean, damp cloth after each feeding.
If you child gets thirsty between meals or during the night, water is always the best choice. For babies who prefers to sleep with their bottles, the bedtime bottle should be filled with water rather than milk or juice. This will help minimize the exposure to decay-producing acids.
Once Teeth Erupt
On an ultra-soft toothbrush, apply a small dab of child-friendly toothpaste, and gently but thoroughly brush your child's teeth and gums. Once your child is old enough to spit out all of the toothpaste after brushing, you can switch to a fluoride toothpaste to further help protect against cavities.
Flossing
Start flossing your child's teeth when all the baby teeth have erupted. You can ask our staff about our special flossers for kids!
---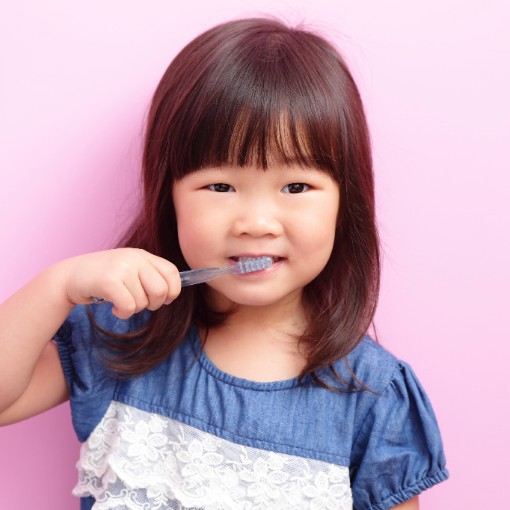 What does Cloverdale Crossing Dental Group do to help prevent dental problems in children?
Lifelong oral health starts in childhood!
Regular professional check-ups and cleanings are fundamental in maintaining excellent dental health as children grow up. Cloverdale Crossing Dental Group provides the following dental services necessary to support your children's dental health:
Regular checkups & cleanings
Specialized advice on children's dental hygiene routines
Fluoride treatments
How often should children visit the dentist?
At a minimum, children should attend a professional check-up and cleaning appointment every six months at least.
That said, each patient has different needs, and come children may require more frequent check-ups or cleanings.
---
For more information about decay prevention, contact the knowledgeable team at Cloverdale Crossing Dental Group.
---
---
Featured Services
We are committed to helping you and your family maintain good oral health.
Getting your child fitted for a custom mouth guard is the optimal way to ensure their teeth, mouths and jaws are protected during sports.

Dental Hygiene

Maintaining good oral health and preventing gum disease is supported by regular dental exams and cleanings.

Invisalign, clear braces are the invisible way to straighten teeth using a series of custom-made, nearly undetectable aligners.